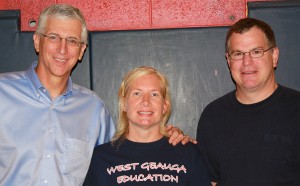 West Geauga fifth grade teachers Angela Wyatt and Jeff Baker have been named the 2011-2012 winners of the WEDGE award for their part in gaining $100,000 in outside funding for tablet computers for elementary school students. The teachers will share a $500 grant they can use for any classroom purpose.
The WEDGE Award is presented at the beginning of each school year by WEDGE, The West Geauga Educational Foundation. It recognizes those within the school community who make outstanding efforts to introduce new ideas and methods to learning.
"Any of the three nominees for last year would have been deserving winners of the award," stated WEDGE President Jerry Pignolet.
Wyatt and Baker know the value of using the Apple iPad as an educational tool for elementary students. Their drive to integrate the iPad technology into the classroom translated into action as they secured funds and created instructional activities enhancing the learning experience for every fifth grade student in the district.
Wyatt, who teaches at Lindsey, and Baker, who teaches at Westwood, not only assisted in writing and securing grant funds for the Apple iPads from Fairmount Minerals and other resources, they worked collaboratively to integrate the use of the Apple iPad into their lesson plans.  Examples of their projects include a genealogy unit culminating with students producing a family memory book using iBook Author and researching and creating virtual Presidents and First Ladies reports using the applications of Keynote and Pages.
"These two teachers worked to secure the iPad technology, created and implemented related lesson plans as well as trained both students and staff.  Their leadership and willingness to try new ways to improve learning drove the use of this technology in West Geauga classrooms." said Pignolet.
The other nominees were high school teachers, Natalie Cooper, Kristin Gregory, and Michael Sustin for their work and implementation of "the flipped classroom" instructional technique to increase student engagement in their science classes as well as Kim Mathis and Kim Glessner, both West Geauga Middle School teachers for their role in planning and implementing the OLWEUS Bullying Prevention Program at the West Geauga Middle School.
The West Geauga Educational Foundation also awards money for innovative and creative programs in the West Geauga School System. WEDGE helps those interested in finding better ways to teach and learn to try new approaches.
Please visit the programs page on our website for more information on approved programs and how to apply for funding.  The primary qualifications to apply? A willingness to try new ideas, experiences, technology and programs with West Geauga students in and outside the classroom.
To learn more about the West Geauga Educational Foundation, please visit our website at https://wgef.org/.  If you would like to join, help, attend one of our events or make a donation, please contact WEDGE President, Jerry Pignolet at 440-338-5196.