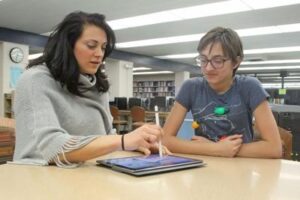 Media Specialist Sarah Thrasher has been introducing students and teachers to Lifeliqe, a science software that allows students to explore 3-D models of everything from atoms to engines to elephants on district iPads.
With Lifeliqe, students can rotate animal models 360 degrees and take photos that match up with their natural habitat, zoom in and out of a volcano model while learning about the structure and conditions of eruptions, take notes and quiz themselves on the names of bones on a model of the human skeletal system and more.
"It just takes concepts and makes them extremely visual," Mrs. Thrasher said. "Things that are hard to visualize because they're super small or inside your body or places that you never get to go to, (students are) able to see it so clearly and play with it and manipulate it."
Mrs. Thrasher first taught Lifeliqe to sixth-graders, including her daughter, Evalyn, during their twice-weekly digital safety class, where students explore a variety of technology projects.
"The kids are so excited about it. The times that they were on it in here, it was like, 'Oh my gosh, when do I get to play with this again?' They were really into it, and not just because it's fun new technology to click around, but they were really using the program and clicking through the different parts of the body and reading about them," Mrs. Thrasher said. "It was really awesome."
The Lifeliqe program was brought to the district through a grant from the West Geauga Educational Foundation, which funded five iPad Pros, keyboards and pens for the iPads and the Lifeliqe software licenses. The new iPads will be available for students to use in the library, and Mrs. Thrasher will be loading Lifeliqe onto a cart of older iPads so teachers can use the technology in classrooms, she said.
"It was cool to use," Evalyn, 11, said. "I feel like it would be a good resource to use if you need to learn about the human body."
Principal Jim Kish said Lifeliqe is another addition to the middle school and district's goal to integrate more technology into the classroom.
"Kids are constantly inundated with technology, and everything we can make available to them in a technological format is wonderful," he said. "(Lifeliqe is) a wonderful program that complements our regular curriculum and gets kids excited about science."
Mr. Kish said it's important to have someone like Mrs. Thrasher on the lookout for new technologies as education continues to evolve to meet the needs of students who grew up with technology like tablet computers at their fingertips.
"That position traditionally was a librarian, and the whole dynamic of the library has changed into a media center as we call it now, and it's been a wonderful, wonderful opportunity to have somebody like Sarah in that position who's looking at new and innovative technologies," he said.
Mrs. Thrasher said she is constantly seeking to stay up to date on where technology and education trends are moving and enjoys that her role as media specialist means she can bring new ideas to the school community.
"Why would I not, especially when grant funds are waiting and all you got to do is write it and apply and then go present on it?" she said. "That's one of the things I really like about my job is I teach teachers and I teach kids."